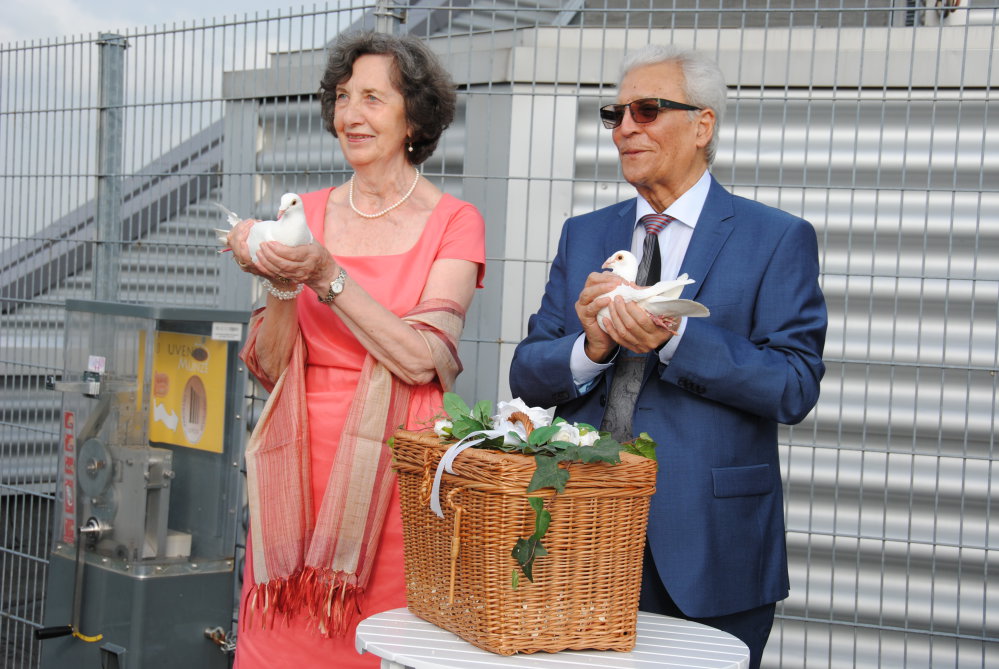 Willkommen
خوش آمدید
स्वागतम
Welcome
to the company of
Arif Naqvi
Arif Naqvi's book "Zum Paradies auf Erden" was released on 31st Juily 2016 in Berlin.
First shrot story collection in German language by an Urdu writer based in Germany.
Arif Naqvi's Short Story Collection in German language released in Berlin
First German language short story collection of an Urdu Writer
Large number of Indians, Pakistanis and Germans came to a cultural centre "Nachbarschaftstreff" in Berlin to attend the Book Release ceremony of the short stories of an Urdu Writer from Lucknow, who is based in Berlin. The programme was organised in two parts. The first part included recitation of songs and poems and the short stories of the author. While in the second part an exhibition of the paintings of the children of Shoa Fatima Girls Inter College Lucknow was inaugurated.
Mrs. Sommerlatte, head of the centre welcomed the guests, praising the big participation of people from literary and cultural fields in Berlin. Introducing Arif Naqvi's short story collection in German "Zum Paradies der Erde" (Towards the paradise of the earth) she said that Arif Naqvi is not only President of Urdu Anjuman Berlin and Children Charitable Society Berlin, but he is an excellent writer, poet and social worker. His short stories touch the hearts of the Germans also. They carry the message of humanism and represent the suffering people.
She invited to sit in Presidium the author Mr. Arif Naqvi, former Head of the Ethnology Department of Free University Berlin Prof. Georg Pfeffer, former Head of the Asian Section of German Broadcasting "Deutsche Welle" Dr. Friedemann Schlender, a guest from Delhi Univesity Prof. Rana Behel, Prof. of Linguistics Dr. Sunil Sen Gupta, Vice President of Urdu Anjuman Berlin Mr. Anwar zaheer.
A Bengali singer Dhiraj Roy presented a song written by Arif Naqvi in Urdu. Dhiraj informed that he has translated several poems of Arif Naqvi into Bengali and narrated few of them.
Introducing the book "Zum Paradies auf Erden" Dr. Friedemann Schlender said that he has long connections with Arif Naqvi. In sixtees when he was a student of Indology at the Humboldt University Berlin Arif Naqvi was his teacher as a lecturer (Asst. Professor). After completing his education Schlender joined the Radio Berlin International. Also Arif Naqvi joined the same section in radio as an editor and started the Hidustani Programmes. Praising the book Dr.Schlender said that during his long stay in Germany Arif Naqvi has gathered experiences as a poet and writer, journalist, radio and drama artis, teacher of Hindi and Urdu languages in the Humboldt University Berlin, as an editor of the Radio Berlin International, correspondent of several Indian news papers and Press Trust of India and All India Radio and have used them in his stories. Like many famous Indian intellectuals of the post colonial rule, he is also influenced from the social problems. For example in his stories "Riksah wala" and "Pahla Juta" the central figures are the down trodden people. Arif Naqvi has experienced the life in India and Germany and has lived among the common German people and knows their problems. This has helped him to show the contradictions in day today life of the Germans also. He has used his pen for world peace and fraternity among the nations.
Prof. Gerog Pfeffer, former head of the Ethnology Department of Free University, said that I have written in the past also that Arif Naqvi is like a Sufi who searches peace, security, friendship and love. I find it in his short stories also. He represents the suffering people.
Prof. Rana Behel, who had come from Delhi, said that he was extrmely happy to attend such a grand function and to see so many eminent personalities. He admired that Arif Naqvi was rendering great service to Urdu in Germany and writing so nice short stories. He expressed his faith that Urdu language will always live due to its beauty. Eighty percent Bollywood films, he said, are having Urdu songs. Urdu is again getting popularity.
Prof. Sunil Sen Gupta of the Umboldt University Berlin, said that Arif Naqvi has always stood for friendship between Indians and Germans. His short stories carry the message of social justice, peace and humanism.
Vice President of the Urdu Anjuman Berlin, Mr. Anwar zaheer, said that Arif Naqvi is not only an excellent Urdu writer, but he has made his name among German writers also. It is our luck that he is among us. His connection with his motherland reflects in his stories. Speaking about the stories Zaheer mentioned specially Riksha wala, who is sick, but cannot afford treatment in hospital. Barrack No.8 , he said, is his favourite story in which the miserable condition of the prisoners has been depicted so nicely, that the reader feels as if he is himslf in prison. While the story sucide shows the cruelty of the society. But the same boy who wants to give up his life saves the life of a small goat.
Mrs. Nargis Jonitza narrated few humourous dialogues from Arif's story "Eins zu vier" (one to four), which ends on tragedy. This story was published first time in 1964 in a leading German Magazine "Nue Deutsche Literatur" official magazine of the Writers Union in Berlin.
A German poetess and former radio artist Mrs. Barbara Lemko read the short story of Arif Naqvi, Sucide. While Naqvi himself and Dhiraj Roy read the short story Sucide.
International Urdu Conference Lucknow, India 2nd. May 2016

Arif Naqvi speaking.
The Conference was inaugurated by the Governor of U.P. and presided over by Vice Chancellor Lucknow University
نظم
عید
از۔عارف نقوی
ईद आई है तो लग जाओ गले से मेरे عید آئی ہے تو لگ جائو گلے سے میرے
दोस्तो आज तो बेज़ार

-ए मुहब्बत न बनो دوستو آج تو بیزارِ محبت نہ بنو
रहमते अर्श से नाज़िल हैं जहाँ पर तेरे رحمتیں عرش سے نازل ہیں جہاں پر تیرے
सज़दा

-

ए शुक्र हो आज़ार

-ए मुहब्बत न बनो سجدہء شکر ہو آزار محبت نہ بنو
ईद आई है तो ईमान को ताजा कर लो عید آئی ہے تو ایمان کو تازہ کر لو
मैकदा छोड़ के दुनिया में गुज़ारा कर लो

میکدہ چھوڑ کے دنیا میں گزارہ کر لو
दिल के ऐवान में रौशन है जो कंदील

-ए खिरद دل کے ایوان میں روشن ہے جو قندیلِ خرد
जलवा

-ए तूर का हर शै में नजारा कर लो جلوہ ء طور کا ہر شے میں نظارہ کر لو
ईद आई है तो ऐलान-ए रफाक़त कर दो عید آئی ہے تو لگ جائو گلے سے میرے
अम्नो

-

ओ इंसाफ का

,

इखलास का परचम खोलो امن و انصاف کا اخلاص کا پرچم کھولو
बेकस

-

ओ बेबस

-

ओ बेआसरा लोगों के लिए

بے کس و بے بس و بے آسرا لوگوں کے لئے
ज़ीस्त को ज़ीस्त करो दिल के दरीचे खोलो زیست کو زیست کرو دل کے دریچے کھولو
सज़दा

-

ए शुक्र में जाते हुए कहना आरिफ سجدہ ء شکر میں جاتے ہوئے کہنا عارفؔ
मेरे अल्लाह मेरा साज़

-

ए मुहब्बत सुन ले میرے اللہ میرا سازِ محبت سن لے
बदलियाँ चीर के तारों को नुमाया करदे بدلیاں چیر کے تاروں کو نمایاں کردے
शब् के सन्नाटे में एक बार चरागा कर दे شب کے سناٹے میں اک بار چراغاں کردے
ईद आई है तो लग जाओ गले से मेरे عید آئی ہے تو لگ جائو گلے سے میرے
सज़दा

-

ए शुक्र करें मिल के गुजारिश कर लें سجدہء شکر کریں مل کے گزارش کر لیں
मेरे अल्लाह हर एक शै में तजल्ली भर दे میرے اللہ ہر اک شَے میں تجلی بھردے
क्लब

-

ए इनसान को इनसान के काबिल कर दे قلبِ انسان کو انسان کے قابل کردے
आरिफ नकवी

(

बर्लिन

) عارفؔ نقوی ، برلن
میرا ہر ورق میری ہر سطر میرے خون دل سے لکھی غزل
میری داستان وفاۓ دل میری زندگی کی کتاب ہے
عارف نقوی
मेरा हर वरक़, मेरी हर सतर, मेरे खूने दिल से लिखी ग़ज़ल
मेरी दस्तान-ए वफाए दिल, मेरी ज़िंदिगी की किताब है
आरिफ नकवी

Jedes Blatt, jede Zeile,
die ich mit dem Blut meines Herzens schreibe,
ist eine Erzählung von der Treue meines Herzens,
ist ein Buch meines Lebens.
Arif Naqvi
۔۔۔۔۔۔۔۔۔۔۔۔۔۔۔۔۔۔۔۔۔۔۔۔۔۔۔۔۔۔۔۔۔۔۔۔۔۔۔۔۔۔۔۔۔۔۔۔۔۔۔۔۔۔۔۔۔۔۔۔۔۔۔۔۔۔۔۔۔۔۔۔۔۔۔۔۔۔۔۔۔۔۔۔۔۔۔۔۔۔۔۔۔۔۔۔۔۔۔۔۔۔۔۔۔۔۔۔۔۔۔۔۔۔۔۔۔۔۔۔۔۔۔۔۔۔۔۔۔۔۔۔۔۔۔۔۔۔۔۔
Introduction: :تعارف
* Born and brought up in Lucknow پیدائش لکھنئو
* Education: Lucknow University تعلیم لکھنئو یونی ورسٹی
* Literary writing: :ادبی تخلیقات
poems, short stories, plays, essays, articles شاعری، افسانہ نگاری، ڈرامہ نگاری، مضمون نگاری
* Profession: : پیشہ
Teaching & Journalism معلم، صحافی
*Present Social activites: : موجودہ سماجی سرگرمیاں
President: Urdu Anjuman Berlin (Reg.) صدر اردو انجمن برلن
President: Children Charitable Society Berlin SHOA (Reg.) صدر چلڈرن چیریٹیبل سوسائٹی برلن
Former President: International Carrom Federation (2005 - 2014) ممبر سابق صدر عالمی کیرم فیڈریشن ۔موجودہ لائف ممبر۔ سابق صدر یوروپین کیرم کنفڈریشن، موجودہ لائف ممبر
سابق صدر جرمن کیرم فیڈریشن۔ موجودہ لائف آنریری صدر
Former Founding President European Carrom Confederation. Present Life Member Former President German Carrom Federation. Present Honorary Life President
* Hobbies: شوق
writing poems, short stories, plays, articles شاعری، افسانہ نگاری، ڈرامہ نگاری، مضمون نگاری
acting, playing Carrom اداکاری
Literary works:
Books of Arif Naqvi
Rahe Adab men Bhatakta musafir
(Literary experiences of seven decades)
Insan zinda hai
(poetry Urdu/Hindi)
Jalti-bhjuhti yaden
(Aap biti, in Urdu)
Asman-e Adab ka sitara
(Articles of Arif Naqvi and on him, in Urdu) compiled by Prof.Aslam Jamshedpuri
Taer-e Awara
(Travellers in Urdu)
Rahe Ulfat men gamzan
(Travellers in Urdu)
Dornen und Rosen
(Poems in German)
Zum Paradies auf Erden
(Short stories in German)
Carrom se rishta
(in Urdu 40 years experiences)
Relation with International Carrom
(in English 40 years experiences)
Nisf Sadi Germany men
(50 years reminiscences. in Urdu)
Khilti Kaliyan
(Poetry collection in Urdu)
Nuqoosh-e Awara
(Reminiscences Delhi in Urdu)
Yadon ke Charag
(Reminiscences in Urdu)
Khalish
(Poetry collection in Urdu)
Ek se chaar
(short stories in Hindi)
Germany Itihas ke darpan men
(in Hindi)
Germany kal aur Aaj
(in Urdu)
Piyasi Dharti Jalte Saye
(Short stories in Urdu)
Zakhmon ke charagh
(poems on peace in Urdu/Hindi/German)
Talash-e sahar
(Short stories in Urdu)
Stage Plays of Arif Naqvi
Compiled by Prof. Aslam Syed (soon)
Name: Letters to Arif Naqvi
Compiled by Prof. Aslam Jamshedpuri (soon)
Plays
*Nai Zindigi * Swang * Sauda * Roop * Door ke Dhol * Ghulamon ki Malika Razia Sultana * Unpire
* Carrom
عارف نقوی کی ادبی تخلیقات
انسان زندہ ہے
(شعری مجموعہ۔اردو، ہندی)
راہ ادب میں بھٹکتا مسافر
(سات دہائی کے ادبی تجربات)
جلتی بجھتی یادیں
(آپ بیتی)
آسمانِ ادب کا ستارہ
(عارف نقوی کے مضامین۔ مرتب پروفیسر اسلم جمشید پوری)
طائرِآ ۤوارہ
(سفر نامے)
راہ الفت میں گامزن
(سفرنامے)
Zum Paradies auf Erde
جرمن زبان میں افسانوں کا مجمو عہ ( سوئے فردوسِ زمیں سے)
Dornen und Rosen
شعری مجموعہ جرمن زبان میں
کیرم سے رشتہ
Relation with International Carrom
انٹرنیشنل کیرم سے رشتہ)
جرمنی میں نصف صدی
شعری سندیسے کھلتی کلیاں
زخموں کے چراغ ، نظمیں
نقوش آوارہ
یادوں کے چراغ
خلش
(شعری مجموعہ)
हिंदी ایک سے چار
زخموں کے چراغ
(نظمیں امن کے عنوان سے)
پیاسی دھرتی جلتے سائے
(کہانیاں)
جرمنی اتہاس کے درپن میںहिंदी
جرمنی کل اور آج
تلاش سحر
(کہانیاں اردو)
زیر طباعت: نامے (خطوط عارف نقوی کے نام۔مرتب پروفیسر اسلم جمشید پوری)
زیر طباعت:انسان زندہ ہے۔ شعری مجموعہ (اردو اور ہندی زبانوں میں)
ڈرامے
نئی زندگی
سوانگ
سودا
دور کے ڈھول
امپائر
کیرم
غلاموں کی ملکہ رضیہ سلطانہ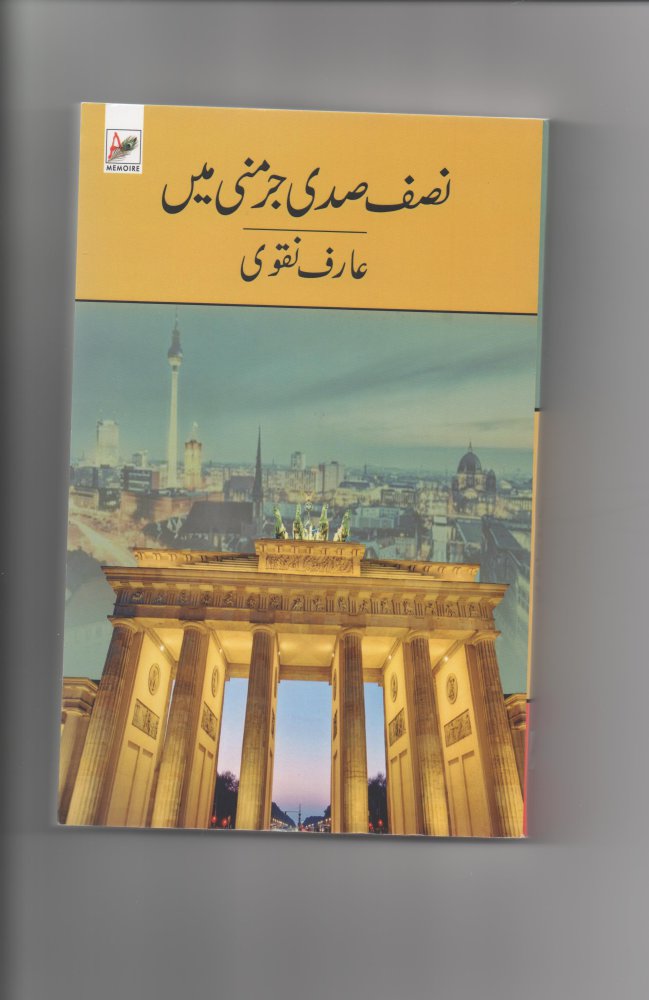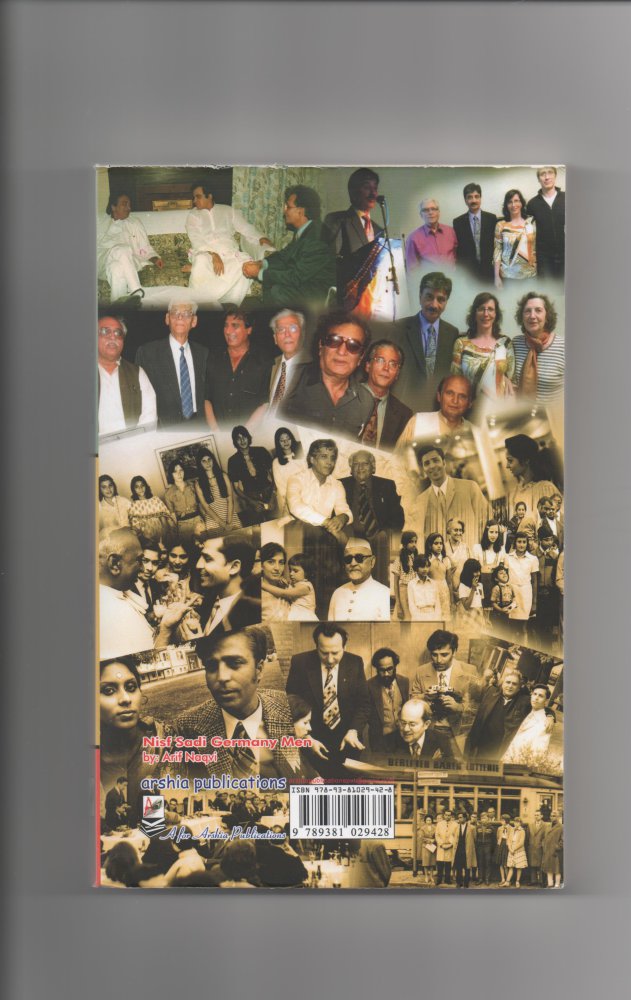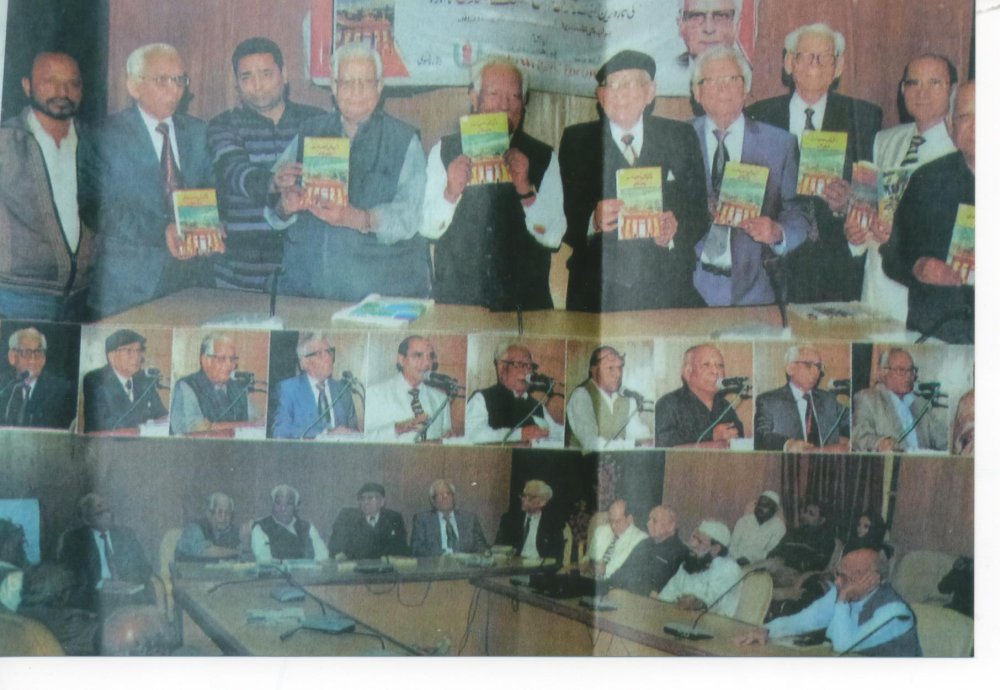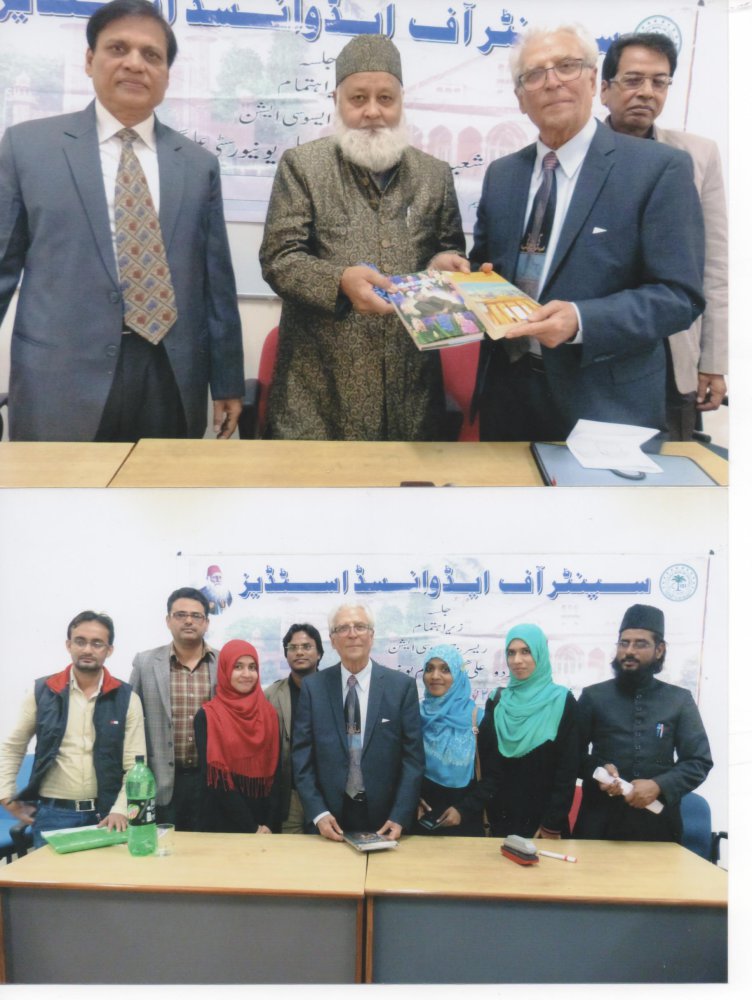 1. From left:Dr.H. Rasid, Editor daily Aag A. I. Alvi, Director daily Avadhnama S.V.Rizvi, former Minister A. Rizvi, Writer A. Suhail, Justice H.A.Abbas, Writer A, Naqvi, Prof. S. Rudaulvi,former Vice Chancellor Urdu-Arabic-Persian University A. Ansari, former Mayor of Lucknow D.J. Gupta introducing Arif Naqvi's book Germany men nisf sadi. Lucknow 18.11.2014
2. Arif Naqvi with teachers and research students of Urdu Department, Muslim University Aligarh. 25.11.2014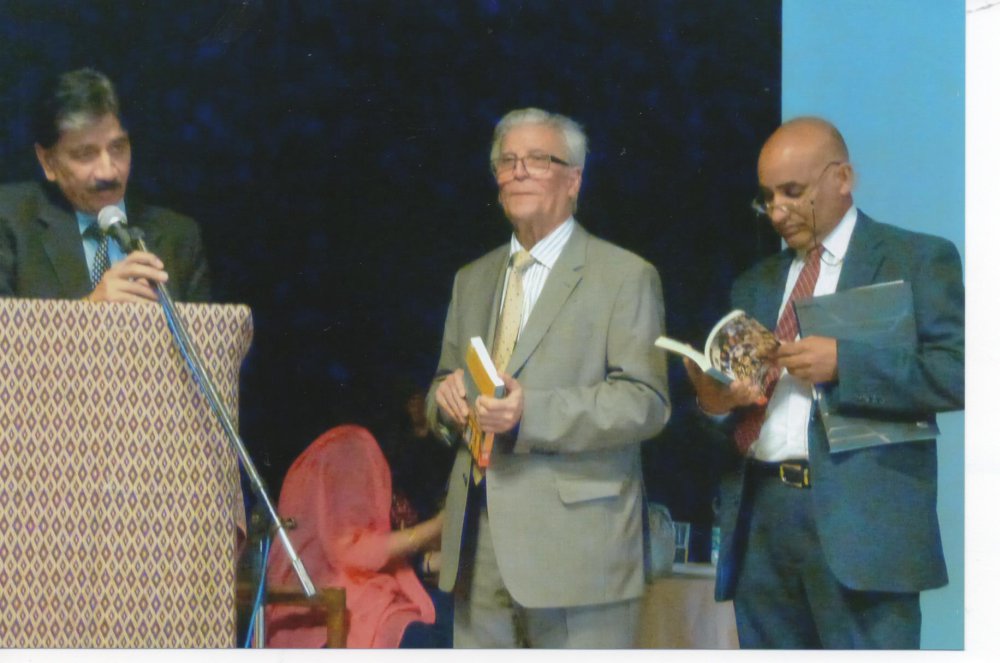 1. Above: Launching of Germany men nisf sadi at a function of Urdu Anjuman Berlin 01.06.2014
From left: Dr. Khald Alvi, Arif Naqvi, Anwar Zaheer Rahber
2. Below: A scene from Arif's play "Door ke Dhol" (German) staged in Berlin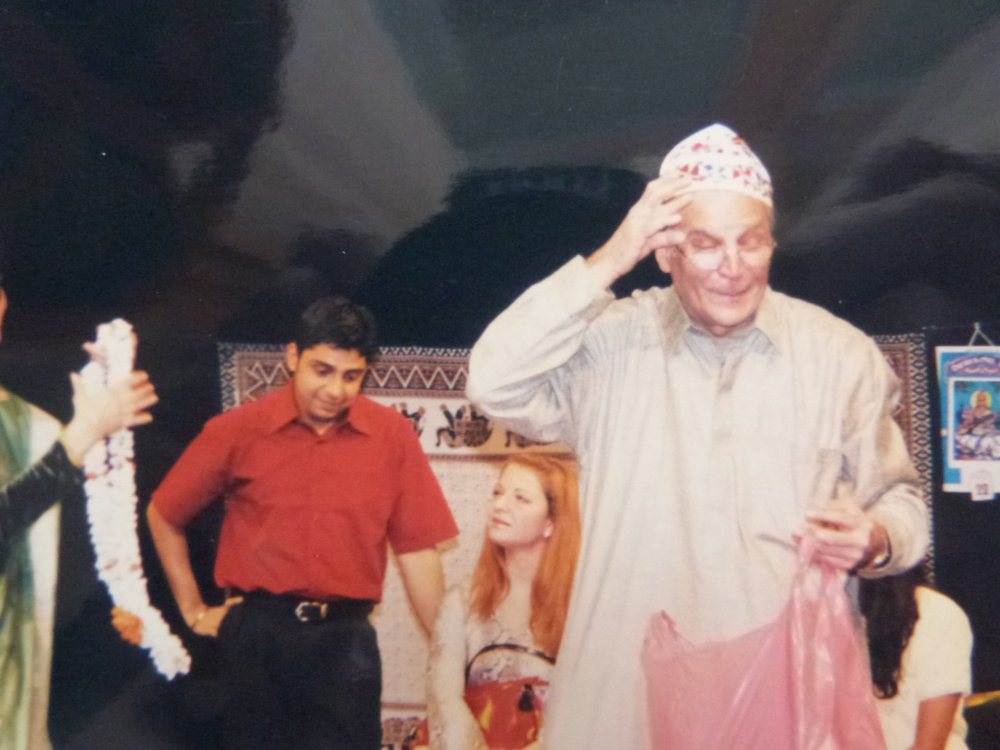 Below:
A scene from the play 'Sarae ke bahar', written by Krishan Chandar, directed by Arif Naqvi. Staged in Lucknow and Delhi.
Following is a scene from Sarae ke bahar, staged at the auditorium of Ashoka Hotel, New Delhi in 1960.
Inder Sharma as Poet, Tulu Chowdhry as Munni, Mohd. Tariq as Jani langra, Arif Naqvi (sittin) as blind begger.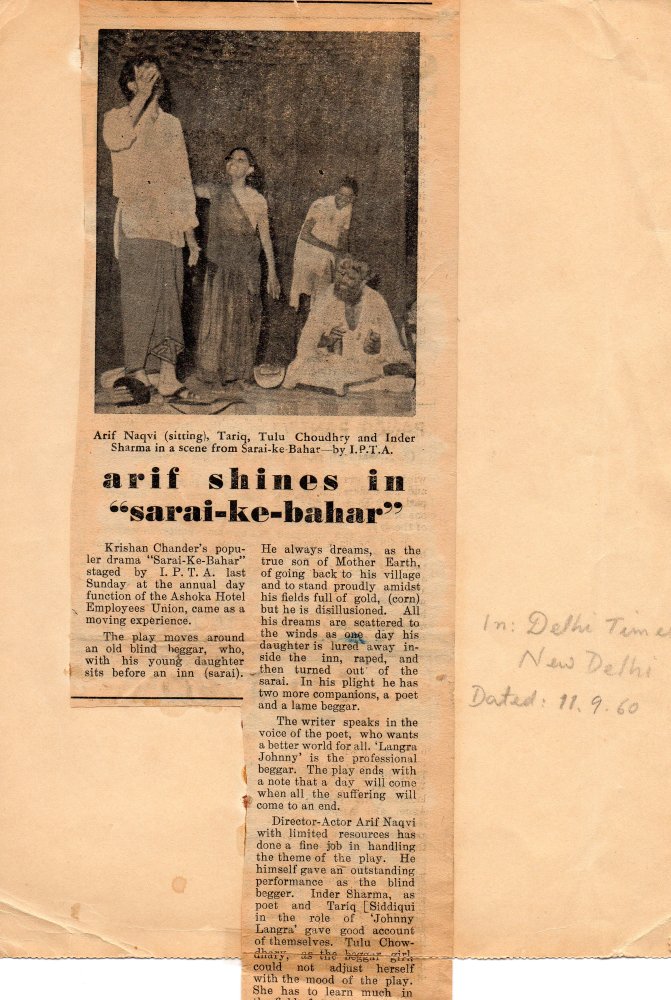 Arif Naqvi reciting poem at a Mushaira (poets gathering) in Karachi University in 2001.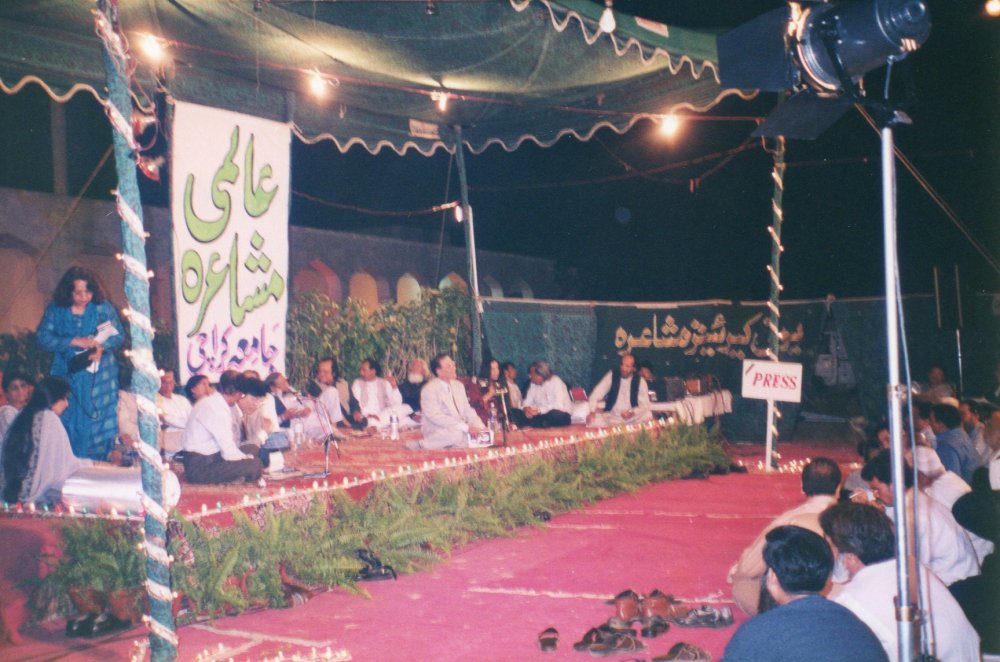 Below: Arif Naqvi's poetry collection in German "Dornen und Rosen" released in Berlin on 19th April 2015. Prof.Gerog Pfeffer speaking.
Arif Naqvi speaking at a seminar in Jamia Millia (University) New Delhi